Anti-wear and corrosion protection of materials
Kutepa Rubber Service Oy
Anti-wear and corrosion protection
We offer various rubber, ceramic, and polymeric coatings to protect surfaces against wear and corrosion. We coat anything from individual objects to entire production lines: piping, process tanks, storage silos, packing lines, and more.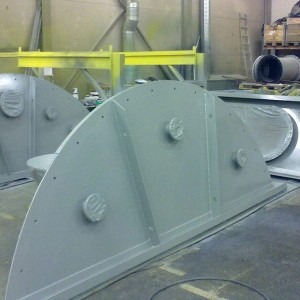 The selection of coating material is vital for ensuring maximum durability and resistance to slippage and friction. For this reason, we always choose the most suitable option for each need together with our coating manufacturers.
The broad range of equipment we use facilitates cold- and hot-vulcanization and curing of pipes of up to 12 metres in length. Our 5-ton grab hoist makes light work of coating of heavy objects. We have offices in Kurikka and Kuortane.
On-site coating service
In addition to our own operating premises, we provide on-site coating services in Finland and abroad. If the object is difficult to move, it will be more cost-efficient to apply the coating on site. Our experienced project team will take full responsibility for the coating project, ensuring that your own staff is not tied up on the project. Our on-site coating service is available for new construction and renovation projects.
In anti-wear and corrosion protection, our main customer groups include operators in the marine and shipyard industries and the mining industry but our products are used in many other process industries also. Our products are suited for all applications where corrosive process products are present or parts are subjected to hard wear.
Our cooperation partners include RemaTipTop®, Henkel LOCTITE®, and Sika Finland®.
Contact us
Please leave your Email address so we will respond to you.
Kutepa Group specializes in the delivery of material handling and storage systems. We provide all services needed in the material handling chain, including equipment planning and manufacture and systems installation and maintenance.